Ball Transfer Units
Ball transfer units are a great solution when you need to move loads across a surface in multiple directions. They are designed to be used with the load ball up and are often used on Conveyor Transfer Tables.

Ball Transfer units are sometimes call conveyor roller ball units and thy are used extensively in manufacture. The a

...

ddition of ball units to a production line enables different machines and conveyors to be connected. This allows material, packages and/or components to be transferred without the operators needing to physically pick up and move them.

Because the Load balls allow for multidirectional movement across a table, loads can be moved with precision.

A Conveyor Ball Unit consist of a large load ball running on a number of smaller support balls manufactured from mild steel or stainless steel. Check out our catalogue page here.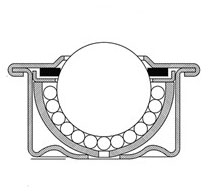 Read More
Display 15 Products per page
15.8mm Ball Transfer Unit. "Drop-In" model with... Read More Nylon load ball case hardened for durability. Suits 24mm Seating Hole. Load Capacity = 10kg.

Supplied with Spring Clip.

Check 2D Image for Dimensional Data.

Load Ball Diameter:

15.8mm

£

6.29

In Stock