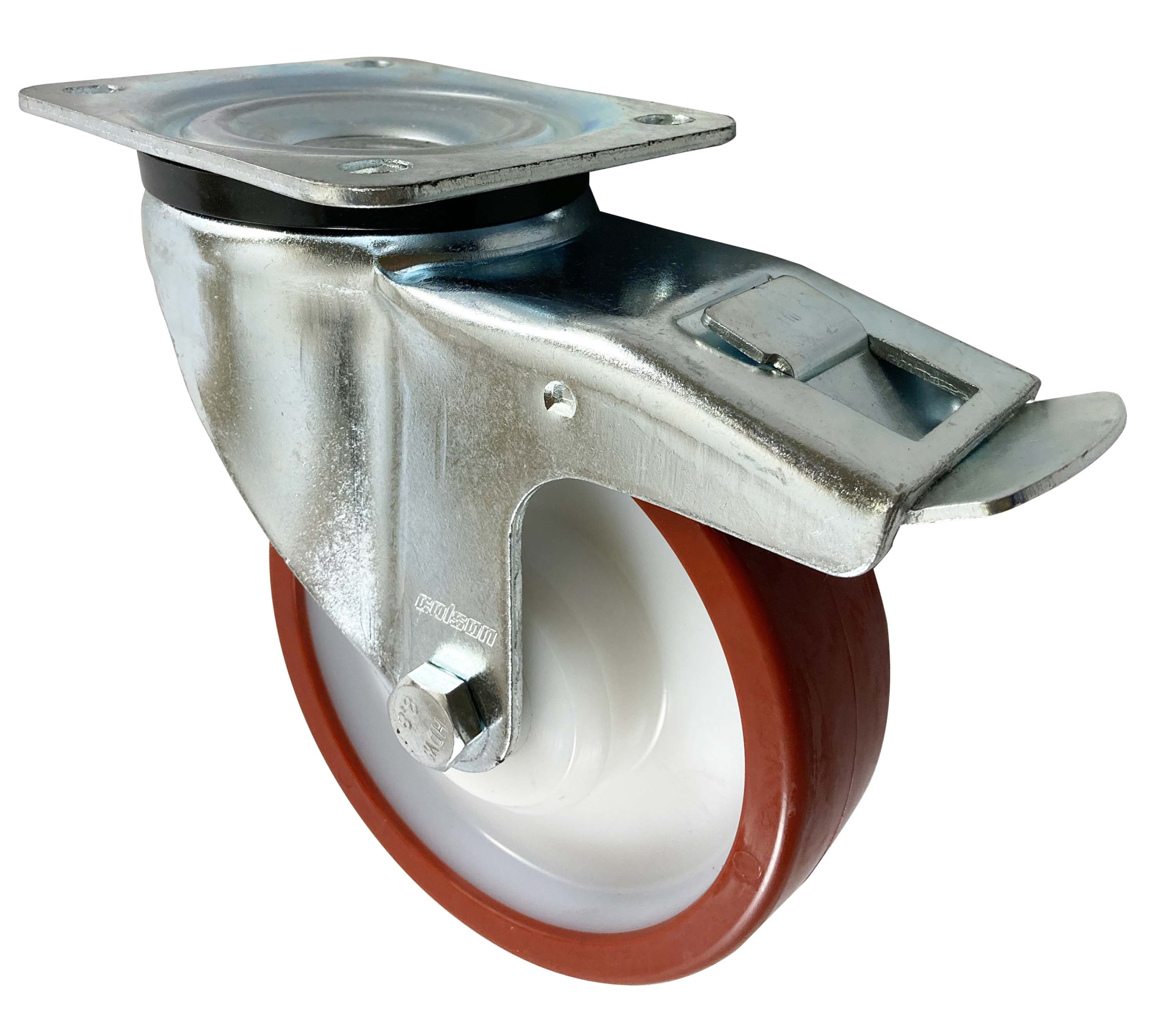 Braked Castors
Braked Castors are usually swivel castors with brakes. The Brake can lock either the wheel or the swivel head, or both. It is uncommon to find a fixed castor with a brake. Our GD Series of shock absorbing castors is one of the few that do. See GDS S

...

hock Absorbing Castors here

.

Braked Castors can swivel the wheel 360 degrees about the vertical axis. They consist of a housing with a lockable brake and a caster wheel. The housing itself is made up of a plate fitting, swivel bearings and a yoke. The Yoke is often referred to as the castor's frame or bracket.

The plate fitting determines how the castor is going to be attached to the equipment. It is usually either a single bolt hole fitting or a plate fixing which is generally square, rectangular or triangular. Plate fittings are usually bolted to equipment so knowing your required bolt hole centres is important. The Swivel Head consists of a ball race and a number of ball bearings that roll within it. Braked Castors, like Swivel Castors, can either have a single ball race or a double ball race. They perform the same function. The double ball race was developed for medium and heavy applications. This is because they are compact, perform well under static and dynamic loads and provide excellent steerability.

Braked Castor Offset

The Braked Castor's offset it the distance from the swivel axis to the centre of the wheel (where it is secured to the castor frame). It is the reason any swivelling castor will go in the direction you want it to go regardless its starting direction.
Read More
Display 15 Products per page
100mm All Black Swivel & Brake Castor with Bla

...

Read More

ck Elastic Rubber Tyre on a nylon centre wheel with a single ball bearing. This castor is designed for theatre applications to reduce reflection from lighting. It can also be used in any application where a pressed steel castor is required.The Swivel Brake Bracket has a 4 hole top plate with 80/77x60mm bolt hole spacing. The load capacity of this castor is 200kg using manual propulsion at 4km/h (walking speed)The Black Elastic Rubber Tyre offers a higher load capacity than standard grey or black rubber tyres and is quiet and gentle on floors. The soft tread rubber (65 Shore A) absorbs vibrations whilst in motion making this a low noise option. The ball bearing lowers the rolling resistance to reduce the effort required to move the castors. Together with the strong bracket that has a double ball race in the swivel head makes this castors a great performer and one of our most popular products.DOWNLOAD CATALOGUE PAGE HERE

Bearing Type:

Ball bearing

Bracket Material:

Pressed Steel, Pressed Steel - Black Painted

Brake Style:

Swivel and Wheel Brake

Fixing Type:

4-Hole Plate Fixing

Wheel Tread Material:

Rubber Tyre

Wheel Type:

Rubber Tyre / Nylon Centre

£

14.84

In Stock